Friends and Family Stroke Recovery Group
For years, stroke recovery groups have been instrumental in upholding and honoring stroke survivors through the arduous recovery process. We have created a group based on the support group guidelines published by the American Heart Association.
We offer a community of stroke survivors dedicated to each other's recovery & a safe, respectful forum where your input is encouraged and supported.
 at mitchraymond614@gmail.com or (203) 444 – 6251
Recovery. Empowerment. Friends. Hope. Support. Family. Survivors.
This Group is registered with the American Stroke Association
The American Stroke Association, a division of the American Heart Association, is dedicated to helping stroke survivors rebuild their lives. The American Stroke Association's Stroke Family Support Network is a clearinghouse of information about stroke prevention, treatment, rehabilitation and recovery.  It helps consumers learn about stroke…what it is, where to go and what to expect after a stroke. Over 1,800 stroke groups and more than 36,000 individuals throughout the United States are part of the Stroke Family Support Network.
("Successful Stroke Support Groups," American Stroke Association)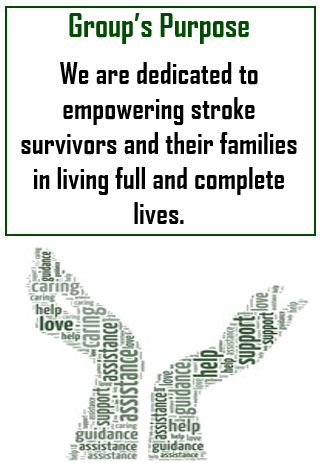 Stroke support groups allow stroke survivors to help themselves and other survivors create meaningful lives after stroke. Coming together in an atmosphere of caring and cooperation, survivors, their family caregivers and friends can forge a new sense of community. New goals and friendships are started, renewing hope and encouraging independence. (American Stroke Association)
Where Are Meetings?
Finger Lakes Independence Center, 215 Fifth St. Ithaca, Conference Room
When Are Meetings?
First Thursday of every month
From 1:30-3:00PM
Who Should Attend?
STROKE SURVIVORS
&
Their families and allies
What do meetings include?
Guest speakers
Educational opportunities
Social opportunities
Free and Open to the Public.
You are Welcome.
Come as you are.