Benefits Education and Employment Assistance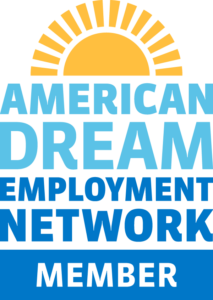 The Finger Lakes Independence Center is a member of the American Dream Employment Network (ADEN). ADEN is the first national administrative Employment Network providing face-to-face services to individuals receiving Social Security Administration (SSA) disability benefits.Benefits Education is a useful service for:
Individuals applying for benefits
Social Security Beneficiaries interested in employment
Students transitioning out of high school
Individual who need assistance managing their current benefits
Employment Assistance through the Ticket to Work Program is available to:
Social Security Beneficiaries
18 – 64 years old
Interested in financial independence
With a "Ticket" available for assignment
Other types of Employment Assistance is also available for individuals with disabilities not receiving Social Security Benefits.
Benefits Education Services include:
Assistance applying for benefits
Information and analysis about benefits and entitlements already received
Information about the SSA's Ticket to Work Program
Accurate information about the impact of employment on all benefits
Assistance ensuring proper reporting of income and work activity
Proper planning for the transition from benefits to financial independence
Assistance utilizing available work incentives
Referral to appropriate community organizations
And more!
If you are interested in Benefits Education or Employment Assistance, contact our American Dream Employment Network Point of Contact:
Emily Papperman
Ph: 607.272.2433
Email: emily@fliconline.org